Displaying events from May 18 to September 15.
The Ultima Zone, Musical, & Visual Adventure
with Matt Venuti
Tuesday, May 24 7:15 pm – 8:45 pm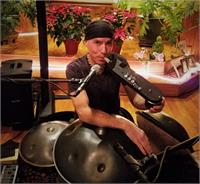 MATT VENUTI presents The Ultima Zone…a multi-media music and sound-immersion experience like no other.
Attendees will be treated to an instrumental journey through rhythm, melody and resonance and a sonic voyage into subconscious and super-conscious realms…. all set to captivating visuals he's filmed throughout the US, including when he was Artist In Residence in the Florida Everglades and in Virginia's Shenandoah National Park. The end result is vitalizing yet calming, heart-opening and inspiring.
Matt is an award-winning composer and media artist who uses a captivating array of acoustic and electronic instruments that he was among the first to share with the world. Some of these include the Swiss-made Hang instrument, the Electronic Valve Instrument (EVI) wind-synthesizer and a brand-new instrument called the Wave. He enhances his performances with a looping device that allows him to create lush layers of cinematic and other-worldly sounds, effects and melodies.

$20 in Advance
$25 at Door

Check out Matt's website for music videos and more information: www.mattvenuti.com
---
Roadhouse Blues Blacklight Aerial
with Nikki Johnson
Saturday, June 4 5:00 pm – 7:00 pm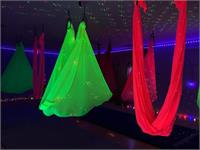 Roadhouse Blues Blacklight Aerial
Saturday June 4th, 2022

5-7pm
$20 with own silk
$30 with rented silk

This month we are tearing at the heartstrings and enticing the soul with roadhouse style rhythm and blues, a genre notorious for making even the most stoic want to get up and dance.

The studio will be decked out in UV black lights so wear your best neon or white clothing and come GLOW with us!
We will learn aerial basics on silks as well as a few tricks and conditioning moves! We will have a wind down and savasana, then the last 30 minutes of class will be free play where you can revisit your favorite moves and take photos!
Sign up on URUYoga.com or on the Mindbody App. Message Nikki at (850) 463-2758 with questions.
---