Displaying events from December 3 to April 2.
Solar Eclipse Sound Bath with Swan Michelle
with Michelle Baker
at URU Yoga - Gulf Breeze

Saturday, December 4 3:30 pm – 5:00 pm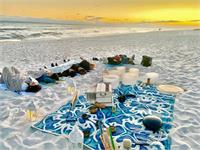 Beach Sound Bath With Swan Michelle
Dec 4th 3:30pm until sunset . The last one of the year!
.
Bathe with us in pure highly tuned vibrations.
Done at sunset, outside, on the beach, by the ocean, supported by white crystal sands, welcome welcome in the healing vibrations of a unique experience, a Sound Bath.
Lie into and receive the benefits of sound therapy with an extensive crystal bowls collection. Swan Michelle has numerous instruments from her travels all over the world, including a gongs, elemental chimes, tonal drums of Bali, tuning forks harmonium from India and is trained in sacred mantras meant for healing, protection, transformation and the coherence of the nervous system.
Bring your beach towels, props, shawls and pillow for sunset and stargazing. This is done lying down in silence and stillness, making it accessible to many. If lying down is not accessible to you, bring a beach chair.
This is a unique journey that Swan Michelle created and has been doing since 2012, like no other. It has helped clear thousands of beings in the sweetness of art, music and harmony.
Being connected to nature as to listen to the sacredness of the pure vibrational frequencies and tones, the elements, sun, moon, and stars will transform and transport you. It will nourish and support you in releasing your nervous system of trauma, discord and stasis, back to stasis, ease-fulness and peace.
Find out more about Sound Baths at www.swanmichelle.com
Requirements and logistics:
For this event to happen, you must register the day before the event. Due to the nature of the set up of this event, 5 people must be registered for it to happen.
If weather is not permitting, you will be notified and this event will be postponed.
Once you are registered, this event is non-refundable.
The location of the event on the beach will be given to you the day of the event. It will be marked and described to you in an email and text.
A staff member will be on hand if you are having problems locating it.
The location on the beach often changes.
You will be checked in by a staff member upon arrival.
If you are sick or experiencing symptoms of any sickness, please refrain from coming. We are outdoors and it is spacious, but we ask that you are socially responsible since we are focusing on wellness!
Investment:
$27
---
at URU Yoga

Monday, December 6 6:40 pm – 8:10 pm
This Lyra workshop with Ashlyn will go over technique on aerial hoop and work on connecting moves into a flow. We will also work on a conditioning routine for aerial core strength.
90 minutes
$20
---
Yoga Nidra Teacher Training & Immersion
with Michelle Baker
at URU Yoga - Gulf Breeze

Thursday, December 9 5:30 pm – 8:00 pm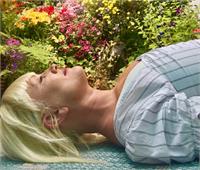 New Years Total Slow Down Retreat
Swan Michelle
Feb 24th
11:30am-6pm
*Yoga Nidra
*Breathing exercises
*Yin Yoga
*Restorative Yoga
*Neurological Anatomy
*Embodying the Mythology of Stillness
* Priming ourselves for Meditation
*Cord Cutting Meditation and Room Clearing
Introduction to the deep, nourishing, inner practices that promote an adaptable immune system, emotional stability, stress and anxiety reduction, noise resiliency and the rest and digest state for optimal health.
This 1 day retreat will promote you checking in instead of getting caught up in business and further habituating your tendency to check out.
It will be an entire day of some very diverse practices in Energy work, Breathing exercises, withdraw of the senses, Yoga Nidra, Yin Yoga, Restorative Yoga and Meditation.
We will take moments to discuss some of the neurological benefits of these practices, the effects of stress, how to reduce anxiety and how to be more at ease in stillness. We will introduce you to the mythology of Yoga Nidra, the background of Yin and the pre-cursors to being able to sit still in meditation,making this wonderful for yoga teachers so that you have a language to promote stillness in your students.
We will also primarily do these practices and let ourselves BE, reminding us all that we are the IN-dweller. We have permission to slow down, to let go, to reduce and to refrain for health purposes, not as a form of avoidance at all!
Put down the tasks. Let go of the doer ship. You need this. If you need more time, slow down! These practices will remind you of how important this is to add to your daily habits and routines
Investment:
$108
***NOTE: "Total Slow Down" is part 1 of Swan Michelle's Yoga Nidra Teacher Training. If you would like to be certified in Yoga Nidra, this is the beginning! Please join us!
A SHORT BIO of Swan Michelle:
Swan Michelle has been teaching yoga full time in New Orleans, the Gulf Region and Internationally since 1998, for 20 years! She is the Founder of Swan River Yoga (3 locations), created the first Yoga Teacher Training in New Orleans, which is called Swan School, and trains and leads full time International workshops in Bhakti Yoga, Sound Therapy, Restorative Yoga, Ayurveda Yoga Therapy, Energy Medicine and Yoga Nidra.
She helped open the first Prasad Vegan Cafe in New Orleans, Good Karma Cafe, is a singer in Bhakti Caravan, and leads numerous Sound Baths with sacred instruments.
She has studied with Radhanath Swami, Sharon Gannon, Ram Dass and Dr Marc Halpern as her primary yoga teachers. She is initiated in the Hanuman Bhakti lineage under Neem Karoli Baba, and has certifications in Jivamukti Yoga, Sivananda Yoga & Anusara Yoga.
She has been to India 9 times, which imbibes her offerings of all that she has uncovered yoga to be, along with service, Self Lead entrepreneurial nature and unconditional Love! Check out her CD, Forest Dwellers by Bhakti Caravan on iTunes or go to her website to view online trainings, training manuals and courses.
---
Holiday Lights- Psychedelic Rock Blacklight Aerial
with Nikki Johnson
at URU Yoga

Saturday, December 18 6:00 pm – 8:00 pm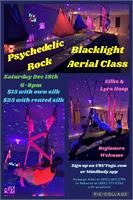 Holiday Lights - Psychedelic Rock Blacklight Aerial
Saturday December 18, 2021
6-8pm
$15 with own silk
$25 with rented silk

Come celebrate the season at URU Yoga with this special blacklight aerial class!

The studio will be decked out in UV black lights so wear your best neon or white clothing and come GLOW with us!
We will learn aerial basics on silks and lyra hoop as well as a few tricks, conditioning moves, and doubles lyra moves! The last 30 minutes of class will be free play where you can revisit your favorite moves and take photos!

The psychedelic rock playlist will feature artists like Jefferson Airplane, Cream, Iron Butterfly, Jimi Hendrix, and The Doors.

Sign up on URUYoga.com or on the Mindbody App. Message Nikki at (850) 463-2758 or Rebecca at (850) 377-5334 with questions.
---
Master Reiki Training with Diane Ferguson
with Diane Roll Ferguson
at URU Yoga - Gulf Breeze

Saturday, January 29 9:00 am – 5:30 pm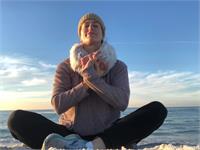 Master Reiki Training with Diane Ferguson
Saturday January 29 2022 9AM-1PM, 4:30-5:30PM via Zoom
Investment: $200
Deposit of $50 is required by Dec. 20th to reserve your space.
The emphasis of this Master Level training will be the introduction to the Reiki Master symbol that will intensify the other Reiki symbols. This course will include a Reiki Master Attunement, techniques for hand placement, distance healing, energizing spaces, and creating a clearer connection with life force energy.
Reiki Master Training certification is required to teach Reiki to others. Reiki I and Reiki II certification is a prerequisite for this course.
The Reiki attunement is what makes Reiki unique to other forms of healing touch and energy work. This ceremony, called Reiju (Ray-joo) in Japanese, is performed by the Reiki Master and opens and expands the main energy channels of the student's body, allowing universal energy, also known as Qi/Chi/Ki, to flow more freely and deeply.
Because of this opening process, the attunement also does what Reiki is meant to do — clear blockages. As a result, this can create significant energy changes within the individual and many will undergo an intense period of self-growth. Often, innate intuition and other gifts are more easily accessed.
Diane Ferguson is an Usui Ryoho Reiki Level III Master Teacher who began her study of Reiki in 2014 and has been working with others in this healing modality since 2015. Diane believes that the power of Reiki is limitless and can be applied to nearly every facet of your life. Diane is also a yoga instructor, Certified Health Coach, retreat facilitator, and ordained Minister.
---